Shell Scheme Exhibition Graphics
Exhibition graphics come in all shapes and sizes and we offer a wide range of media to suit many different applications and venues. The vast majority of our digitally printed panels are produced in-house so we not only have total control over production schedules, allowing us to prioritise urgent jobs but we also quality check everything before it is shipped. Our team of design experts are on hand to answer any technical questions and provide help and advice with the actual artwork preparation.

So what type of graphics do we offer? Select an option below to learn more.
OPTION 1 - Shell scheme mounted graphics
This popular option allows you to display large, one-piece fabric graphics on each of your exhibition shell schemes walls. Images and text run the full width of the stand without any interruptions, covering the metal uprights. The lightweight hanging system comprises of a 20mm thick aluminium profile, discreet top mounting brackets and a one piece stretch polyester fabric graphic. The silicon edged graphic fits securely into the frames channel providing an outstanding crease free appearance. Profiles are split into manageable lengths and are linked together using a standard 2.5mm Allen key. Available in a huge range of standard and custom sizes, this system is the ideal choice for large and small trade show displays.
Mounting graphics at exhibitions has never been so easier! Please take a moment to watch the below video to see how simple it really is.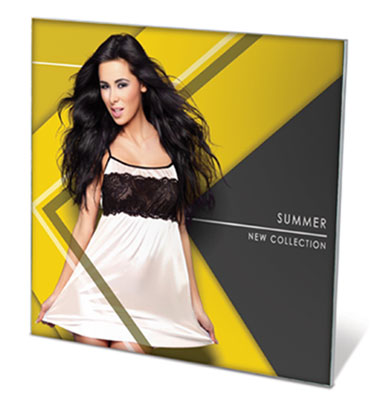 OPTION 2- Rollable graphic panels mounted between metal uprights
A series of individual graphic panels are attached directly to the shell scheme wall using a combination of hook and loop Velcro. This gives the graphics a contemporary framed appearance with the panels recessed back from the aluminium uprights. This style works equally well for cross panel designs (see below) and artwork contained within individual panels.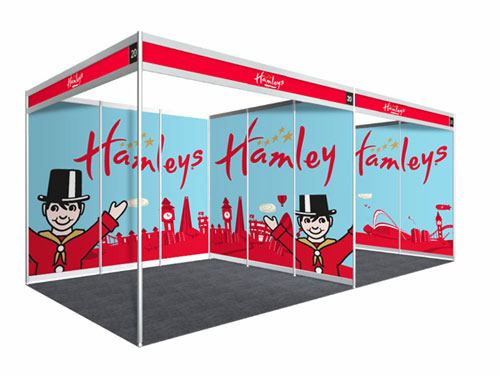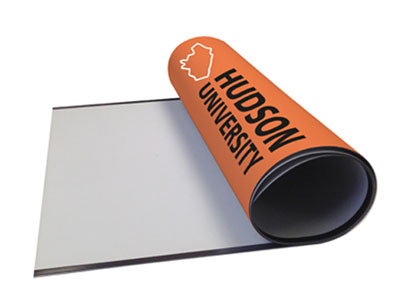 OPTION 3 - Rigid Foamex & display board panels for shell scheme
The rigid 3mm Foamex graphics are printed using instant cure UV resistant inks which provide a vibrant and hardwearing option for trade events. They can be produced in a range of popular shell scheme sizes according to the exact internal measurements of your venue organisers equipment. This information can often be found in your exhibitor's information pack including detailed drawings and dimensions.
The Foamex boards can either be slotted neatly into the shell scheme channel or mounted onto the metal structure in between the aluminium uprights. If you prefer a sleek, edge to edge appearance then attaching the Foamex side by side, directly to the structure is the best option. One person can easily fit the panels using Velcro or magnetic tape, which is supplied as standard.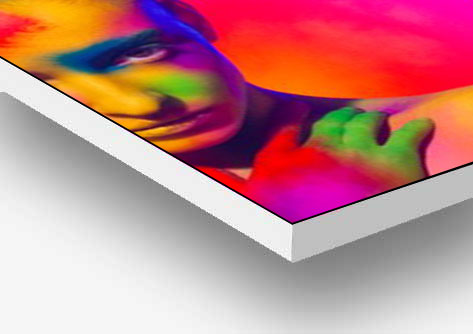 OPTION 4 - Reprints for pop up stands
Are you looking to rebrand your existing popup stand with new graphic panels? Well look no further as we can print for a whole host of pop up stand brands as well as our own supplied system. We offer a range of semi-rigid graphic drums and rigid wheeled transit cases to transport and store your additional graphic panels.
You may have recently re-branded, launched a new product range or you simply want to refresh your existing pop up stand. Whatever the reason we can print high quality graphics quickly and easily. If you need assistance with the creative side of things we have a team of designers who are more than willing to help, so get in touch today.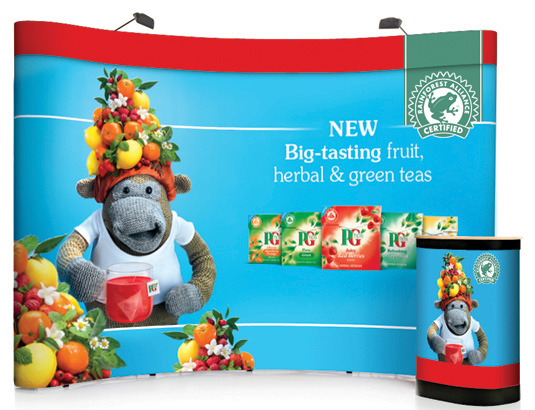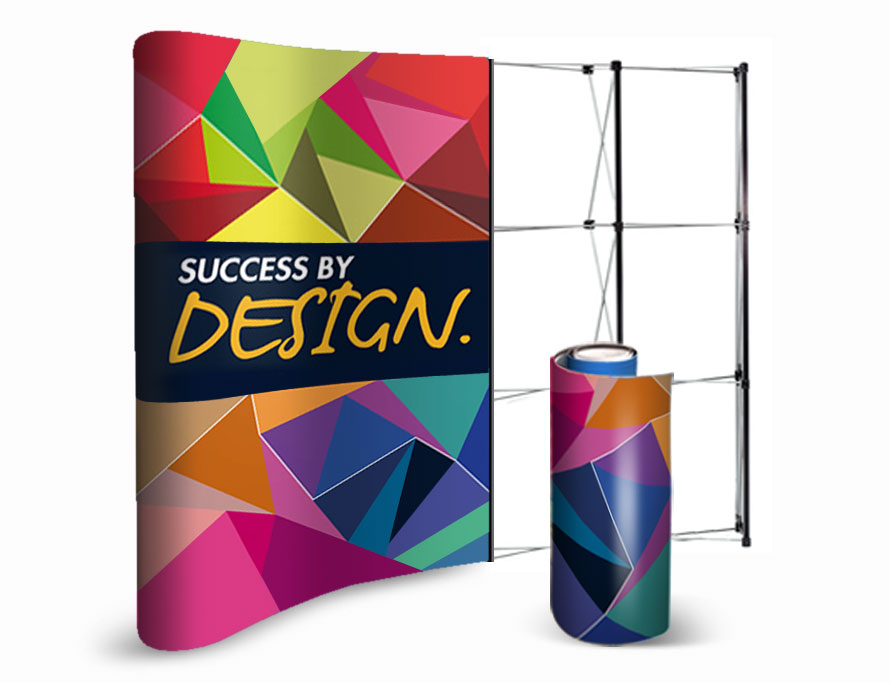 OPTION 5 - Tensioned fabric graphic stands (Formulate, Vector or Hopup Stands)
We supply one-piece textile graphics for a range of display stands including the following:
Formulate - double sided stitched textile graphic that slides over tubular framework
Vector modular - fabric graphics with silicon gasket edge which push fits into framework
Hopup stands - graphic reprints with stitched Velcro hook to attach onto existing concertina framework
All fabric graphics are printed in full colour and have a stop-light backing to prevent rear light distortion. Please contact us for more information regarding artwork and leadtimes.
General Printing Services
If you are looking for a corporate brochure, university prospectus, travel magazine or product catalogue why not get in touch today. Printed brochures and booklets will always have their place and at Exhibition Stands UK we offer a vast assortment of high quality solutions suiting all budgets. From standard 'A' sizes such as A5, A4, A3, A2, A1 and A0 to fully bespoke printed material. Saddle stitched brochures and perfect bound books are all offered in a variety paper grades from premium to budget.
What we can produce:


Brochures
Prospectus
Flyers
Leaflets
Books
Posters
Folders
Business cards
Greeting cards
Product packaging
Our team of designers, printers and finishers have years of experience in the printing industry and over recent times we have taken on the latest digital technology and machinery to meet the most demanding of requirements.
Who do we supply:


Retail
Design agencies
Marketing agencies
Universities, college and schools
Councils & government funded organisations
Small & large companies
Charities & Not-for-Profits
Call us today on 0116 2047758 to talk through your individual requirements.