Reconfigurable Exhibition Stands - The Experts' Choice
Our team of experts specialise in the design and build of bespoke exhibition stands. We offer a fully modular system which is both cost effective and reconfigurable. Our aim is to supply professional, show stopping displays without the huge price tag. Once your stand has been purchased it can be remodelled to suit any area by simply adding or removing sections and the graphics can also be updated giving a new lease of life! There is no need to pay for an expensive custom built stand that can only be used for one event when you can invest in something that looks just as professional and can be used time and time again.
All of our bespoke designs are assembled and tested before they leave the factory. This gives our team of professionals the opportunity to iron out any potential issues whilst giving you total peace of mind. Plus you can arrange to see the fully constructed display by visiting our dedicated pre-build area.
What Sort of Stand Space Do You Have?
One of the first things we will ask is the size of your stand. What is the overall width and height and does the venue impose any height restrictions?
Is it space only or do you have a shell scheme structure in place? If so how many open sides does it have?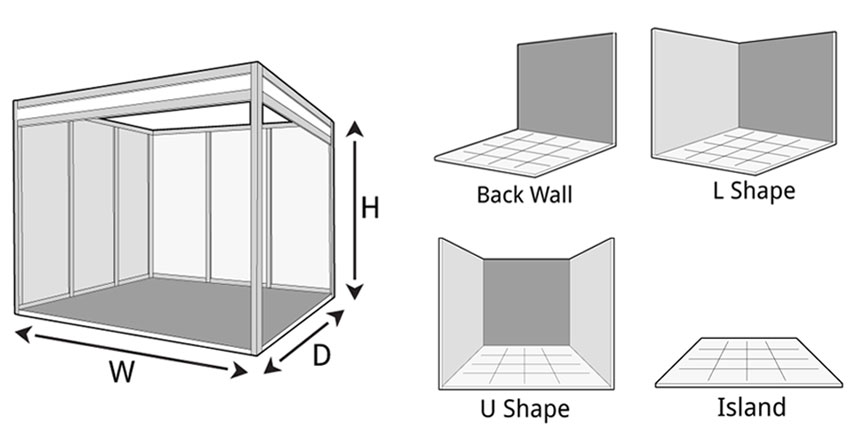 Note: If you have an L-shape, U-shape or back-wall we generally reduce the stand space by 100mm per walled side to allow for the shell scheme structure
Image Library
To give you a better idea of what can be accomplished please see the below image galleries and feel free to call us on 0116 2047758 to talk through your individual requirements.
---
9m2 or Less - Example Designs
---

9m2 to 12m2 - Example Designs
---

15m2 to 25m2 - Example Designs
---

30m2 or More - Example Designs
---

THINGS TO CONSIDER


Types of Exhibition
Do you have a stand preference? For example have you used a particular brand or type of structure in the past which has worked well? This is where we can talk you through the different systems on offer and find one that best suits your company's individual needs.
Will the hardware need to be reconfigured for future events? You may need to split the display into smaller sections in which case a flexible modular system would be well suited.
The Exhibition Graphics
Think about how would you like your graphics to appear on the stand. Do you require a partial or full graphic covering? Would you like to have any of the structure on show or would you prefer a seamless graphic covering?
Do you have a preference over rollable flexi-graphics or something that is printed directly onto a rigid substrate? If you opt for the latter then think about how you are going to transport and store the graphics after the event.
What Is Your Budget?
There are endless possibilities and configurations when it comes to building a bespoke exhibition stand therefore it's crucial we get a clear understanding of your budget. This not only helps us offer realistic options but it also enables us to provide accurate drawings and faster quotations! We want to be able to offer you the best possible solution within your price range.
Are There Any Design Features You Would Like To Include?
Please consider whether you'd wish to include any of the following features on your stand:
Lighting – LED or halogen
TVs, computers or iPads/tablets
Top hanging banners or structures
Arches
Gantry
Brochure/leaflet dispensers
Meeting areas
Lockable cupboards
Workstations/counters
Carrying/storage equipment
Shelving to display products. If so how many items and at what size/weight?
What Can you Tell Us About The Event & Venue?
To get a better idea of time scales and logistics we will ask questions such as:
What date is the event?
How many days does it run for?
Where is it located?
Are there any venue restrictions?
Is electricity included on the stand?
Project Management Services
Let us help take the stress away by offering a fully managed stand build and dismantle service. Our team of experts will liaise with both you and the venue to ensure the display is professionally assembled on time and dismantled promptly after the show. We also offer a range of self-build options, with full instructions provided.
3D CAD Stand Design Service
Do you have any drawings or photographs of the types of stands you find appealing? This helps us narrow down specific features and styles helping us to prepare technical drawings along with a full colour 3D render.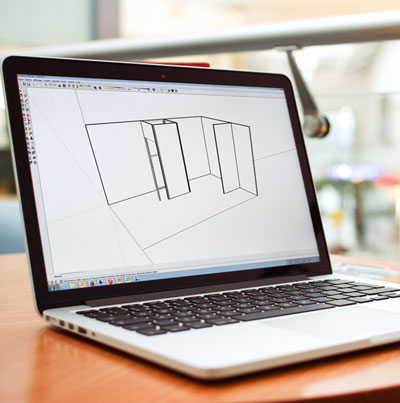 See Your Stand Fully Assembled Before the Exhibition
Remember that we build all of our bespoke designs before they arrive at your event giving us the chance to iron out any problems. You can even see your stand fully constructed by visiting our dedicated pre-build area. We will let you know when we plan to build the stand so you can arrange a convenient appointment.